There are many famous names who had a parallel career while they were doing what they were known with. Some of them started their first ambitions as freelance illustrators and graphic designers. Today they are famous with other achievements and that's why we decide to remind you three of these names.
Kurt Vonnegut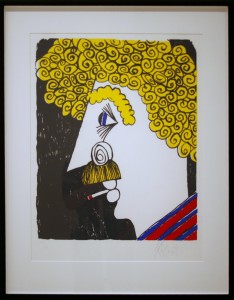 One of the most acclaimed literary works of the 20th century are written by Kurt Vonnegut. "Breakfast for champions" and "Slaughterhouse 5" are among the most read novels in the world. Howevere, Vonnegut had another career that less people know about. He was an illustrator too. He even made art drawings for some of his books. Later as he became famous his art was exhibited around the world.
John Lennon
The piece activist and famous musician John Lennon was not so well known as illustrator. He attented the Liverpool College of Arts in the late 50s and early 60s but eventually Beatles took him off his studies and he didn't graduated. However this didn't stop him from doing this kind of art.
John Lennon published two books while chasing his Beatles career. The books were collection of poems, cartoons and illustrations – from his childhood to his adolescent years.
Alan Rickman a.k.a. Severus Snape
The famous actor Alan Rickman who also took on Severus Snape part in the Harry Potter Series shares that his first ambition was the graphic design. He was even a copy editor of the RCA's ARK college issue. That was the first time Rickman felt what was it like to spread his wings. Clearly graphic design drove his ambition at very first. And then came the theater.
Do you know other celebrities who happened to have a career as freelance graphic designers, illustrators or copywriters? Or you have a parallel job too? You're welcome to share about in the comments.